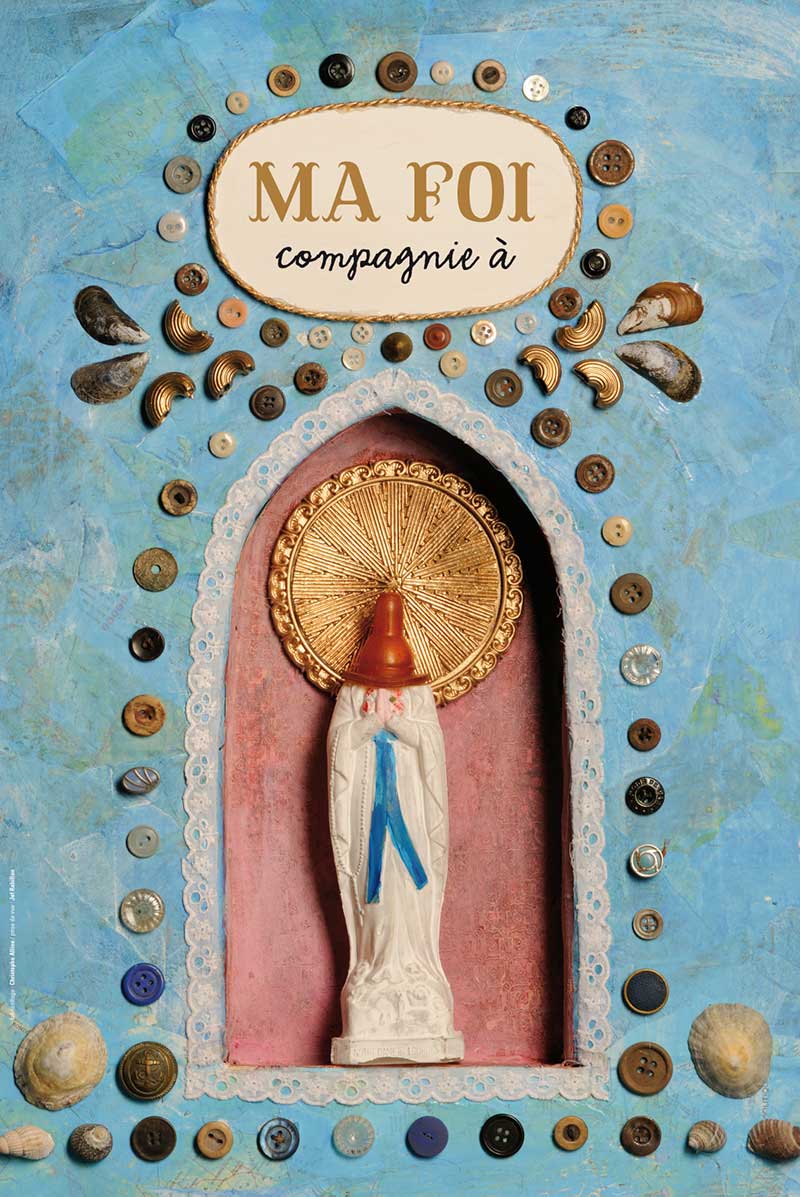 Created in 2009
40 minutes
50 spectators/show or 15 spectators in the company's caravan
commissioned by Angers Nantes Opera
Adults (age 12+)
Production : Compagnie à
Coproduction : Angers Nantes Opéra

A short Object and religious knick-knack Theatre play for electronic altar -

Commissioned to Dorothée Saysombat by Angers Nantes Opera in October 2009 about the Council of Love by Oskar Panizza, "My Faith" deals with the theme of religion in relation to sexuality, especially in the face of the issue of Sexually Transmissible Diseases, by staging a nun manipulating more or less catholic objects on an electronic keyboard altar. 
"My Faith" draws inspiration from the "Council of Love", but revisits it in its own way, by twisting religious symbols and by playing with all these bigotries, with creativity and humour. 
A nun who loves electronic music is outraged by human sexual debauchery that she compares with the Holy (body and soul) pregnancy of the Virgin Mary.
 Will she resist the temptation to punish this couple of degenerates in full sexual intercourse exhibition?
 Rather than a satire of religion and a parody of devotees, "My Faith" is a wacky and offbeat essay between Sunday Worship and Tex Avery.
ARTISTIC TEAM

Directed and performed by Dorothée Saysombat
Devout partner in crime : Nicolas Alline
© Photographies Jef Rabillon
PRESS
Telerama 05/2011 - THIERRY VOISIN "TTT - A not so catholic nun, fan of electro music and collector of religious knick-knack, gives in small committee, and in good faith, a lesson of sexual education. Dorothée Saysombat had previously opened a weapons sale fair ("The Crosporg Observatory"). Inspired this time by the "Council of Love", the young woman, with a polite but venomous cheerfulness, creates a short puppet show where the grotesque of the celestial tragedy of Oskar Panizza is preserved, even increased. A compelling show.

Sradda 10/2010 - magazine n ° 18- - JULIE BORDENAVE
Sexy nativity scene
On her altar, the nun gives life to her little nativity scene – Mary, Joseph and the 3 wise men, but also a disco ball and a Christ who, off his cross, has a damned sexy swagger ... Diving into an eerie world, between onomatopoeias and electronic keyboard, the nun boldly dares tackling sex education. Dorothee Saysombat's hilarious performance shines through the animated figurines: objects, made into allies by the pupeteer, considering the art of manipulation as "a three-way conversation between the actor, the object and the audience ".